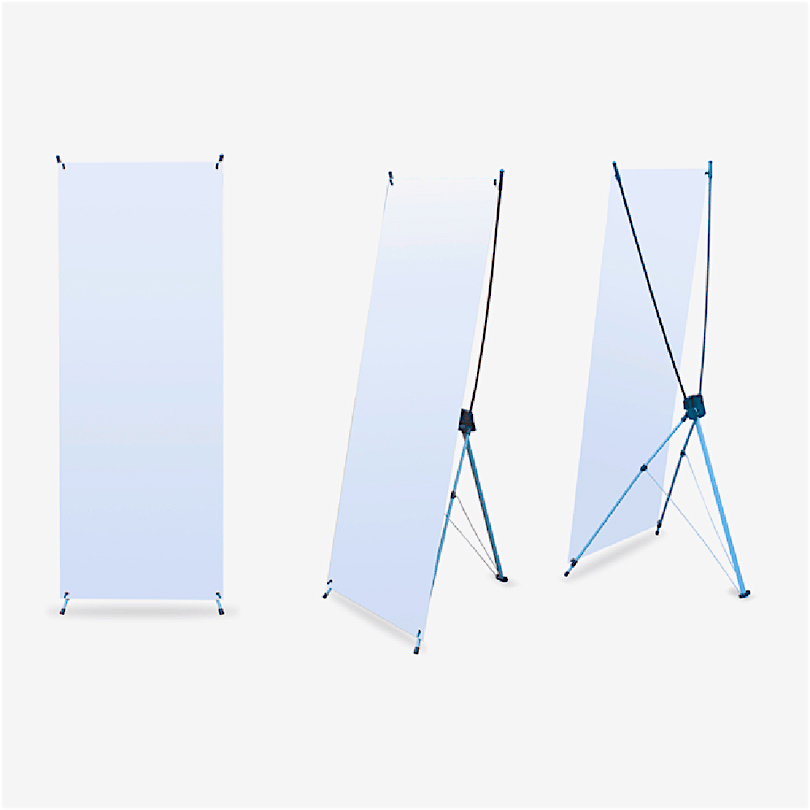 Our X Banner Stand has always been one of our most popular display product. Reason being, it is lightweight, portable and very easy to set up. As such, it is perfect for placement outside retail shops whereby the X Stand Banner can be brought in (when the shops closes) and out (when the shops open) easily.
Here at Brucebanner, you can choose to print your X Stand Banner in either PVC Banner or Synthetic Paper material (see below for pricing). The latter is slightly more expensive as printing on synthetic paper produces better colour and graphic representation (due to good ink abosrbency). In fact, we can print up to 2440dpi on synthetic paper. PVC banner material on the other hand, produces X Stand Banner with slightly rougher surface and slightly lower resolution.
Each X Banner Stand order comprises of the stand and printing of artwork (either on PVC Banner material or on Synthetic Paper material)
For design and delivery, there will be additional charges. Please see the next two tabs for more details
No minimum order
Our X Banner Stand is re-usable. After you purchase your first X Banner Stand from us, in the future, if you need a new print, you do not have the purchase the stand again. You will just have to purchase the replacement artwork.
Design fees is at $150 with 3 free revisions
We will work out a first design draft for you based on your guidelines. Do be as specific and as clear as possible on your guidelines. This is because subsequently, after the first 3 revisions, if you require any further revision, there will be an additional charge of $50 per revision.
Delivery is charge at $40 per delivery
Your X Stand Banner order will be delivered to your specific address on weekdays between 9am to 6pm
Additional surcharge of $25 is applicable for the following

If your delivery address is in Sentosa or Tuas
If you wish for your X Stand Banner order to be delivered on weekends

Alternatively, you can self collect your X Stand Banner order at our office. There will be no delivery charge in such case. But do make an appointment with us before hand

40 Jalan Pemimpin, #02-03C, Singapore 577185, Tat Ann Building
X Banner Stand Pricing
(PVC banner material)
| Dimensions (width by height) | Price |
| --- | --- |
| 0.6m by 1.6m | $72 |
| 0.6m by 1.8m | $86 |
| 0.8m by 2m | $247 |
| 1.2m by 2m | $367 |
X Banner Stand Pricing
(Synthetic paper material)
| Dimensions (width by height) | Price |
| --- | --- |
| 0.6m by 1.6m | $107 |
| 0.6m by 1.8m | $125 |
| 0.8m by 2m | $302 |
| 1.2m by 2m | $447 |
Frequently Asked Questions
I'm interested! How can I place my order?
What is your refund policy?
We apologize. But we do not accept any refunds.
What is the turnaround time?
After confirmation of artwork, we will require 2 working days for printing. The X Banner Stand will be available for collection/delivery on the next working day.
Don't Be Shy
If we didn't answer all of your questions, feel free to drop us a line anytime.