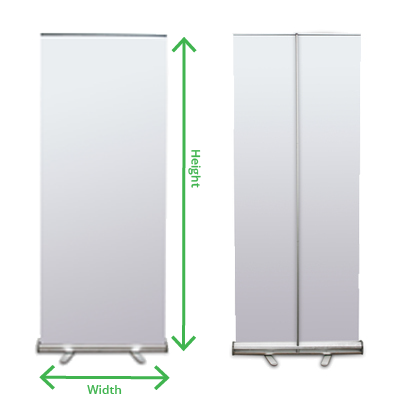 A pull up banner is a stand up banner that is light weight and portable. It is made up of aluminium and can be set up very easily. Here at BruceBanner, we offer three kind of pull up banners in a variety of sizes that are the perfect choice for businesses in Singapore. Each kind differs in their quality and durability.
Each pull up banner order comprises of the pull up banner system, the pull up banner print and a zip bag
For design and delivery, there will be additional charges. Please see the next two tabs for more details
No minimum order
Design fees is at $100 with 3 free revisions
Our team of designers and banner experts in Singapore will work out a first design draft for your standee banner based on your guidelines. Do be as specific and as clear as possible on your guidelines. This is because subsequently, after the first 3 revisions, if you require any further revision, there will be an additional charge of $30 per revision.
Delivery is charge at $35 per delivery
Your pull up banner order will be delivered to your specific address in Singapore on weekdays between 9am to 6pm
Additional surcharge of $20 is applicable for the following

If your delivery address is in Sentosa or Tuas
If you wish for your pull up banner to be delivered on weekends

Alternatively, you can self-collect your display standee pull up banner at our office. There will be no delivery charge in such case. But do make an appointment with us before hand

Oxley Bizhub, 61 Ubi Road 1, #02-04, Singapore 408727
Basic Pull Up Banner
Perfect for those with a tight budget
| Name | Dimensions (width x height) | Weight | Price |
| --- | --- | --- | --- |
| PUB-Basic60 | 600mm x 1600mm | 2.07kg | $90 |
| PUB-Basic70 | 700mm x 1800mm | 2.10kg | $105 |
| PUB-Basic85 | 850mm x 2000mm | 2.99kg | $125 |
| PUB-Basic100 | 1000mm x 2000mm | 3.30kg | $155 |
| PUB-Basic120 | 1200mm x 2000mm | 3.96kg | $175 |
Premium Pull Up Banner
Made of high-grade aluminium for extra durability
| Name | Dimensions (width x height) | Weight | Price |
| --- | --- | --- | --- |
| PUB-Premium60 | 600mm x 1600mm | 3.5kg | $105 |
| PUB-Premium85 | 850mm x 2000mm | 4.2kg | $170 |
| PUB-Premium100 | 1000mm x 2000mm | 4.5kg | $190 |
| PUB-Premium120 | 1200mm x 2000mm | 5.4kg | $210 |
Luxe Pull Up Banner
Flat base for additional stability and durability
| Name | Dimensions (width x height) | Weight | Price |
| --- | --- | --- | --- |
| PUB-Luxe60 | 600mm x 1600mm | 3kg | $178 |
| PUB-Luxe85 | 850mm x 2000mm | 4.5kg | $248 |
| PUB-Luxe100 | 1000mm x 2000mm | 5kg | $278 |
| PUB-Luxe120 | 1200mm x 2000mm | 6kg | $328 |
| PUB-Luxe150 | 1500mm x 2000mm | 7kg | $378 |