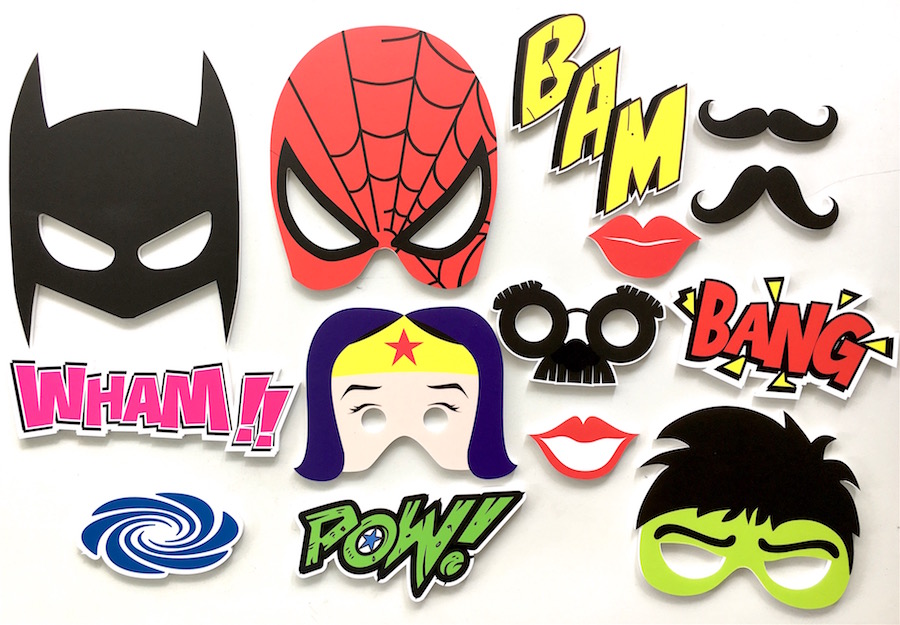 The above depicts some custom design photo booth props specially made for a photo booth company. The props are printed on hard foam board and die cut to shape.
Foam board printing is probably one of the most common frequently used printing product. This is probably so because it is cheap, versatile and suitable to be used as signage for any occasions or events. Here at BruceBanner, we print out foam board in 4 different kind of materials. These materials differs in their thickness and level of brittleness. The thicker the foam board, the stronger it is, the more expensive the price. Generally speaking, unless it is for long term usage (whereby you wish to keep the foam board for future usage), we recommend printing in usual foam board will do. No need for thicker material. If you are confused and require some advice, feel free to contact us. Our graphic specialist will advise you accordingly.
Each foam board order comprises of printing of design work, mounting onto the foam board and also die-cutting to shape
You can choose between matte or glossy surface.
We will require all artwork to be provided to us for printing production. Artwork should be in illustrator (.ai) or PDF (illustrator compatible version) format. If you require die cutting to shape, in your artwork, you should also have a separate layer with cutlines clearly drawn out in VECTOR.
Do note that if you artwork is not of production standard, we may need to re-design / re-edit / re-trace the cutlines for you. In such case, there will be additional charges. Please reach out to us separately for the charges.
For complete designing of props, there will be additional charges. Please see the next tab ("Design Policy") for more details.
For delivery, there will be additional charges. Please see the next tab ("Delivery Policy") for more details.
No minimum order
Design fees is at $150 with 3 free revisions
We will work out a first design draft for you based on your guidelines. Do be as specific and as clear as possible on your guidelines. This is because subsequently, after the first 3 revisions, if you require any further revision, there will be an additional charge of $50 per revision.
Delivery is charge at $40 per delivery
Your foam board printing order will be delivered to your specific address on weekdays between 9am to 6pm
Additional surcharge of $25 is applicable for the following

If your delivery address is in Sentosa or Tuas
If you wish for your foam board printing order to be delivered on weekends

Alternatively, you can self collect your foam board printing order at our office. There will be no delivery charge in such case. But do make an appointment with us before hand

40 Jalan Pemimpin, #02-03C, Singapore 577185, Tat Ann Building
Foam Board Printing Pricing
| Material Name | Within size of A4 | Within size of A3 | Within size of A2 | Within size of A1 | Within size of A0 |
| --- | --- | --- | --- | --- | --- |
| Foam Board | $9 | $16 | $30 | $41 | $79 |
| IN-2mm | $16 | $31 | $61 | $121 | $242 |
| IN-5mm | $24 | $46 | $91 | $182 | $363 |
Frequently Asked Questions
I'm interested! How can I place my order?
What is your refund policy?
We apologize. But we do not accept any refunds.
What is the turnaround time?
After confirmation of artwork, we will require 2 working days for printing. The foam board will be available for collection/delivery on the next working day.
Don't Be Shy
If we didn't answer all of your questions, feel free to drop us a line anytime.